SilentCare – Room air filter
Extremely silent and effective
Effective room air filtration of viruses, bacteria, pollutants and fine particles
Made in Germany:
developed, produced and tested in Germany
Filters at least 99.995 % of the airborne pollutants within the range of ~ 0.1 µm – 0.3 µm with a HEPA filter H14
The noise level of the device is significantly lower than that of a normal conversation (level 2 ~ 41 db(A))
Requires little space and has a very low energy consumption
Stands out by its elegant and intelligent design and is mobile thanks to its casters
Optionally available are a table top for use as a standing table, an activated carbon element and the addition of a Supersilent level (~ 35 db(A))
Clean air on everyone's lips
Clean air – free of viruses, bacteria and other pollutants, significantly improves our health. Especially in rooms with a high frequency of individuals, the number of airborne pollutants increases rapidly, thus greatly increasing the risk of infection with pathogens.
However, fresh air supply indoors, especially in offices, can't always be ensured. Our indoor air filtration system SilentCare provides an ideal solution! It filters air regularly and, above all, very quietly. The sound level of SilentCare is well below the average noise level of an office (40 – 45 db(A)), guaranteeing an undisturbed workflow.
Product features
"While 5 minutes of window ventilation only show a small effect in the fog test, the combination of SilentCare and ventilation is the guarantor for a steady and optimal air purification."

Fog test, Filtration Group Industrial
SilentCare Success Stories
"We are very satisfied with the SilentCare room air filters from Filtration Group Industrial, they do their job inconspicuously, quietly and fit very well into our gym with their high-quality design."
Michaela Reiß, Founder Fitness Studio Lady M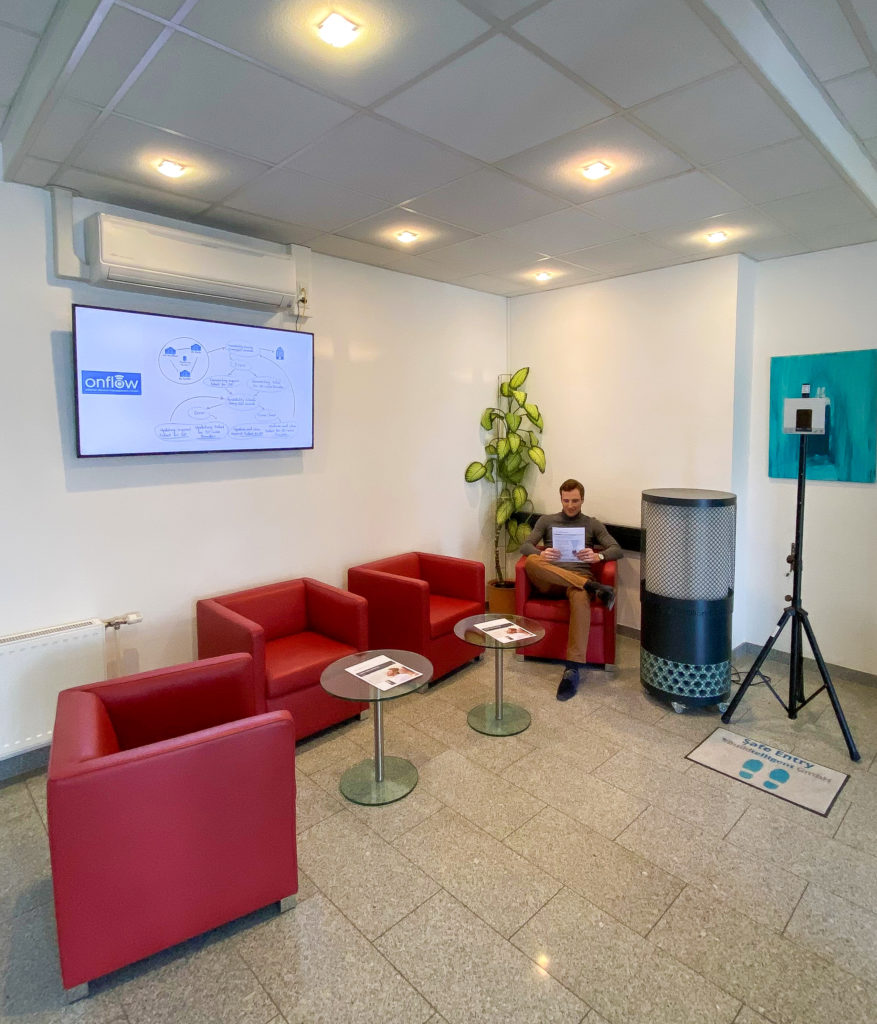 "The SilentCare room air filter is particularly convincing due to its functionality, as well as an exceedingly fair price range."
"The great advantage of the SilentCare is its child-friendly design. Due to its cylindrical shape and its size, there is no risk of injury to children."
"The SilentCare is already an integral part of our driving school inventory as an everyday assistant and standing table."
"Our SilentCare is also used especially where home office is not possible, e.g. in the break rooms of our production."
Filtration Group Industrial

You have questions?
Contact
Harisa Lumpp
Head of Product Management Airfilter Systems
[email protected]
Phone: +49 (0) 7941 6466-345


Individual solutions
The Filtration Group has its own laboratory for prototyping and development, which enables our experts to meet special requirements and offer customized solutions for filtration and separation systems.
Downloads