Industrial Hydraulics
Hydraulic filters and separators against the smallest dirt particles in large machines
Hydraulic industrial systems are used wherever large and heavy goods are moved. Liquids under pressure and the volume flow in the lines generate hydraulic energy, which the so-called consumer, in many cases a hydraulic cylinder, converts into mechanical energy. In order to maintain the circuit in a closed hydraulic system, the hydraulic fluids must be cleaned efficiently during operation. Filtration Group offers various filter systems that deliver excellent separation results over long periods, even at high pressure.
Filtration Group designed high-performance hydraulic filters for manufacturers of aggregates and injection molding machines, utilizing an innovative, advanced filter media technology at the heart of the element construction to guarantee long lasting performance. PulseShieldTM filter elements are more robust and pressure-resistant than comparable inserts because the pleated filter element is pressed firmly against the inner frame of the cylinder. In addition, 30 percent more dirt remains on the fiberglass layers.
In addition to the filtration of fluids in hydraulic industrial systems Filtration Group offer filtration solutions for water treatment, the dewatering of oil and the dedusting of contaminated air.
Together we make hydraulic industrial plants…
…safer, in that our filters optimally clean the hydraulic fluids. Thus contribute to reducing wear and tear on machine parts
…healthier, in that the lubricating oils can remain in circulation longer using our filter systems, which saves resources and the environment
…more productive, by ensuring that hydraulic industrial plants run longer at full capacity, meaning less frequent need for expensive maintenance.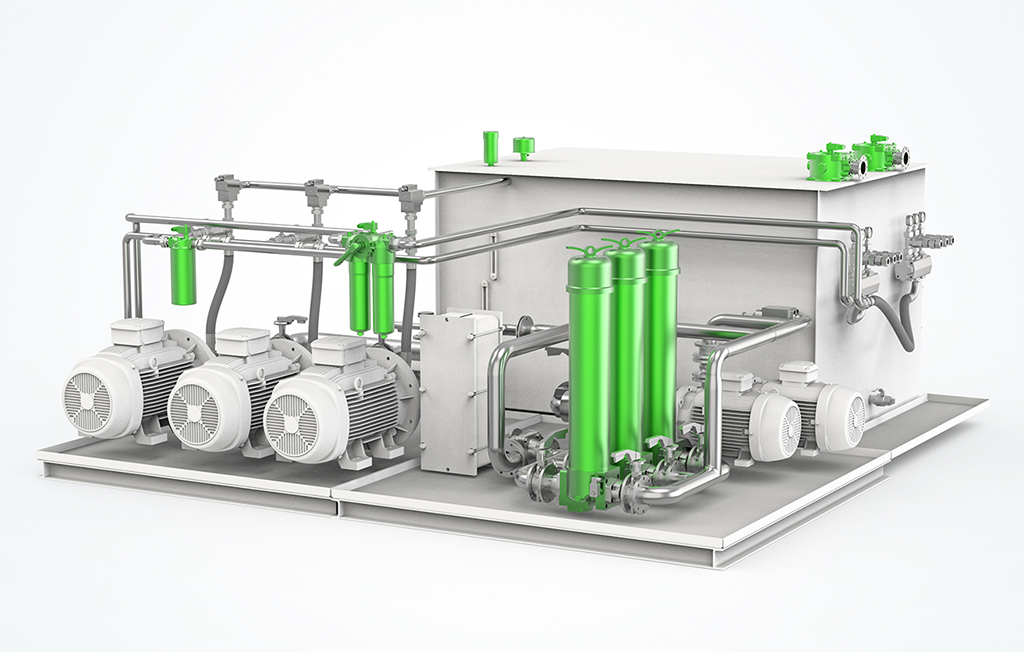 Applications
Only Industrial filters from Filtration Group make a full load possible in difficult operating environments
Whether in water treatment in pulp and paper factories, in the filtration of hydraulic oils in steel and rolling mills, in the cleaning of pressure fluids in aggregates and injection molding machines or in the dewatering of operating oils: industrial filters and separators from Filtration Group guarantee smooth processes and protection in machine for heavy industrial environments and careful use of resources. Only clean systems can run effectively under full load in continuous operation. The prerequisites for this are guaranteed by efficient filter elements and filtration systems from Filtration Group.
Contact
We're happy to help. Just contact us.
Special solutions
Filtration Group offers all filter systems and separation systems as customized solutions. Our experts will be happy to work with you to find the version that best meets the specialized requirements in your work environment.
Downloads